New Washboards
15 Dec 2015
Categories
Tags
Recent articles
25 Apr 2017
Still completely unrelated to boats, but I needed somewhere to put this. Here is a blow-by-blow guide to installing a minimal Ubuntu 16.10 to a ZFS root, booted from EFI, which as used as a LXC host to act as an Apple "Time Machine" destination.
14 Mar 2017
A completely generic script that will proxy serial devices over HTTP, turning USB-things into internet-things.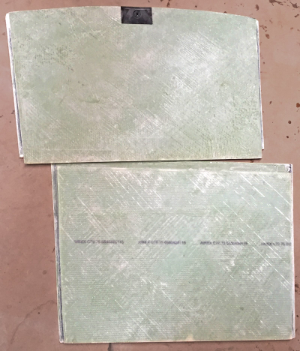 The washboards from Multihulls Direct are made of 6mm Acrylic, and slot into a 6mm groove fashioned into the companionway. The trouble is 6mm acrylic has quite a bit of flex, and a good kick would easily dislodge them. So I made some new ones.
In order to fit the existing 6mm slot, I epoxied two sheets of 5mm foam together with an offset around the edge. A layer of glass tape where the overlap protrudes, a layer of 600gsm glass on each side, the edges routed out and backfilled with epoxy, and I have an extremely sturdy panel. Also, unlike the acrylic, it floats.
The lock is a Mobella which was not expensive, fairly easy to fit and the smooth edges mean it would be very hard to pry open.